About Me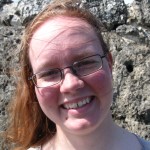 Hello, my name is Lydia and I'm a young woman looking for her place in the world.  I'm from Minnesota, USA and joined the U.S. Navy right after college.  I'm currently stationed on a ship in the Pacific Ocean.  If you want to learn about my travels so far, go to my homepage (through the tab above) and click on the link for Li'l B's Ramblings.  That goes to my blog of all my travels.
My time in the navy is coming to an end, as all good things most, and I'm looking into what I will do once this chapter of my life ends.  I'm an avid fan of history and reading and, although I haven't written fiction in a while, I still plan to make fiction writing a large part of my life in the future.
I love to write science fiction, usually the type set in space on ships or stations, but have gotten into writing fantasy lately, the kind that deals with mythical creatures and mythical times.  I'm currently focusing on my research into the American Civil War as I prepare for college and life outside the navy.  I'm also trying my hand at jewelry-making and have started a store on Etsy, if you're interested.  I'm trying new techniques (for me, most of these techniques are very old) and creating pieces inspired by stories and characters.
Thank you for visiting and I hope you'll come again as I try to figure out where my future is headed.